GFRV Operation Snowball meets weekly at the Kane County Regional Office of Education.

GFRV Operation Snowball is a great place to:

Make new friends

Participate in a teen-led small group experiences

Discover something about yourself

Learn about things teens have in common, as well as all the ways that you are unique

Learn about ways you can impact other teens and younger students

Meet lots of other teens who are alcohol, tobacco, and drug- free. Celebrate that!
View & print our brochure: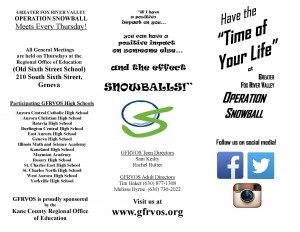 [wpgmza id="1″]